Keeping up with the latest phone is hard enough, and as mobile takes the lead in emerging channels, staying with the times is a ton of work. Even with an already successful business, it's critical to keep pace with mobile marketing.
Mobile Marketing helps your business grow
Did you know that over 6.6 billion people own smartphones globally? If your business is wanting to reach this ever-growing crowd of potential clients, then mobile marketing needs to be part of the strategy. Websites are now just a starting point – it's time for embracing push notifications and SMS messaging too!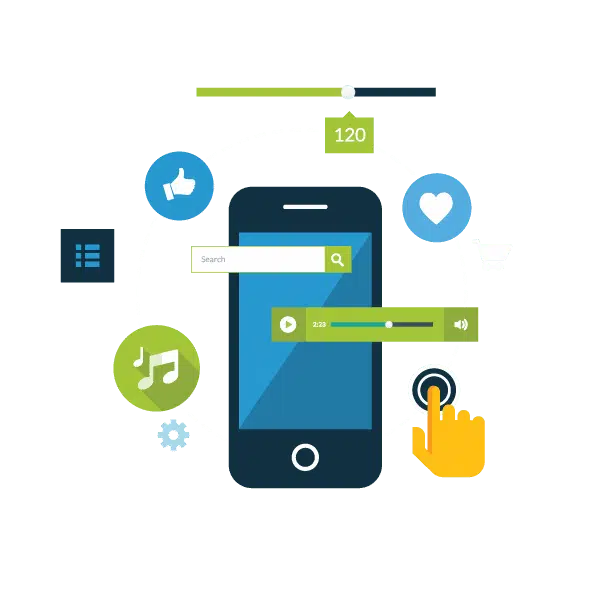 WHY Mobile Marketing IS IMPORTANT

Mobile First Design
Our mobile-first design approach ensures your website is perfectly tailored to deliver a superior browsing experience for all those accessing it on the go.
Accurate Targeting
Our ultra-precise mobile campaigns put your message in front of precisely the right people, so you can turbocharge conversions!
SMS CampaiGNs
Our marketing strategy casts a wide net, utilizing multiple mobile channels to hook in your customers – and SMS campaigns play an important role!
Tapping into mobile marketing opens up a world of opportunities for connecting with your audience in an more personal way. You can now personalize each interaction to the exact requirements and interests of various demographics all while providing content that captivates them!
We're the website-building masters, and we want to make things as stress-free for you as possible! Our service focuses on creating custom solutions specifically crafted to meet your needs. And that's not all — from ideation straight through deployment and analysis, there won't be a single step of mobile campaigning beyond our expert care.
Talk to a Marketing Manager Today!
Our SEO specialists are standing by to talk to you about your online marketing goals.