San Diego Web Design Company
Our high-performing websites and apps may look attractive on the surface, but underneath it, all lies what really counts – a great user experience! Our design team excels at using clever marketing techniques combined with cutting-edge technology to boost leads and ultimately increase sales.
Web Design Services That Help Your Business Grow
Our team of web designers is top of the industry in social media marketing and digital strategy. We follow white hat SEO practices and the popular content management system WordPress to help you achieve better traffic, more qualified leads, and improved conversion rates. We can effortlessly launch e-commerce stores, create a powerful digital presence, or boost income – whatever it takes to make your venture succeed!
"We don't just build websites, we build businesses."
Ready to take your business online? Our website development team has years of experience in customizing websites for maximum exposure and sales. Their industry-leading SEO techniques have enabled them to quadruple traffic, with some companies seeing results as soon as one year! Reach out today – you won't regret it.
Want to make your company shine? Our web design experts have plenty of polished tricks up their sleeve! They've been helping businesses big and small for years, so you can count on them to give your website a high-quality boost. Just click the button below with some information about what you need – we promise quick results!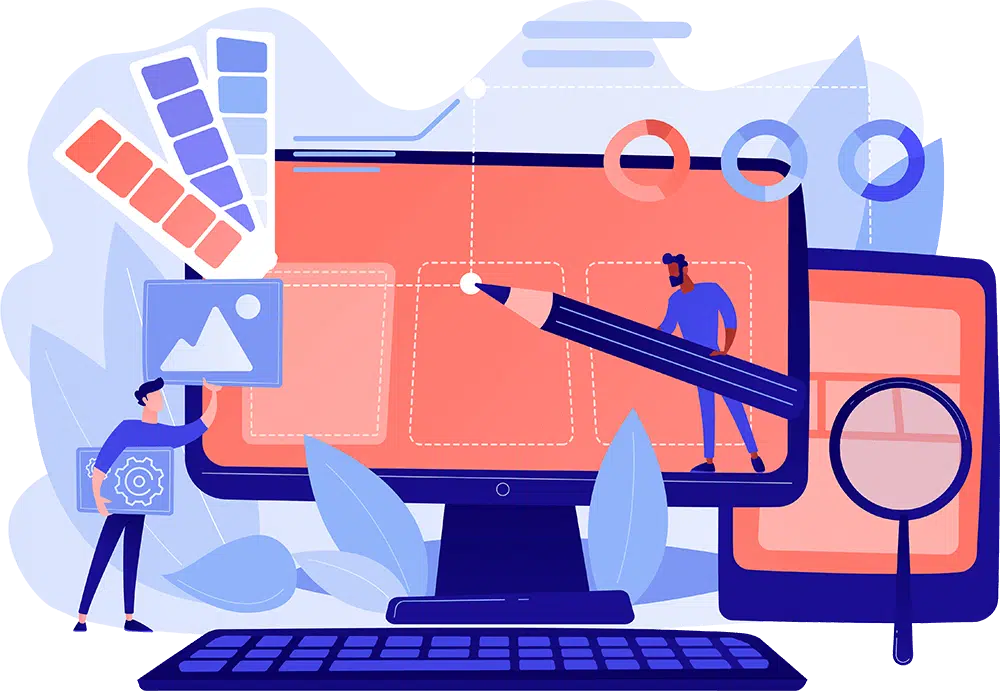 The web design landscape has transformed over time, and today's tools can make all the difference in success. With faster page loading times and fewer errors, your website is sure to get a boost with search engines – meaning more sales for you!
San Diego Web Design Agency

Web Development
Our web design company in San Diego can assist you with building an appealing, distinctive, and effective website that can convert visitors. We understand that every business is unique, so we take the time to understand your brand, messaging, and business goals before developing a design strategy. Our aim is to produce a website that is functional, responsive, and capable of increasing your ROI.

Custom Web Design
At Unmediated Marketing, we have a proven history of creating customized websites of high quality that enable our clients to thrive online. Our specialization lies in developing unique design solutions that cater to your specific business objectives and requirements. Our team employs extensive research, innovative strategy, and technical expertise to design exceptional user experiences for your desired audience.

Responsive Web Design
Our team is experienced in creating websites that are both mobile-friendly and optimized for search engines. By utilizing our design expertise and technology skills, we can build you a custom site with a consistent and seamless user experience across all devices and browsers.
E-commerce Web Design
At Unmediated Marketing our team of San Diego web designers specialize in designing eCommerce websites that are optimized for generating leads, opt-ins, and sales at a fast pace. We ensure that your website is fully functional, responsive, and provides a seamless user experience for your customers.

Digital Marketing
Unmediated Marketing is a full-service digital marketing agency in San Diego. We offer comprehensive services that are tailored to meet your specific goals – from SEO and PPC campaigns to content marketing and social media advertising. Our experienced team will ensure your presence online is consistent, strong, and relevant. Whether you're looking for an increased ROI or more traffic well make sure you get results!
Are you planning to bring your business online? Our team of website developers specializes in creating customized websites that can help you achieve maximum sales and exposure. With years of experience, we can build a website that perfectly fits your requirements. Contact us today to learn more.
Search Engine Optimization (SE

O)
Our marketing strategy and online success come from our SEO-friendly and conversion-centric websites. When we build a new website using a custom WordPress design we ensure that it's fully optimized for search engine visibility. That means your website will rank higher and get more organic traffic, allowing you to reach more potential customers. We also provide ongoing SEO services to help you stay ahead of the competition. Our team uses industry-leading keyword research, content creation techniques, link-building strategies, and other tools to give your website an edge over competitors.
Contact Unmediated Marketing Advertising Company today for a free consultation!